Progress is unstoppable. It is a drumbeat to which we must all march. – Yann Martel, Life of Pi
During this holiday season it is right, or at least natural, that we should take time to reflect upon the blessings bestowed to us.  One of the great blessings to The Community Cloth has been a year of progress, both for the organization and for the women with whom we are honored to call partners.
The Community Cloth as an entity has had a year of fantastic progress on several different fronts.  We have grown tremendously in terms of outreach, sales and product development, and formalization.  Progress in each of these areas has made The Community Cloth more impactful, relevant, and sustainable.  Here are some of the highlights.
We launched this website early in 2011.  We've blogged every month about different aspects of the products, cultures of origin, major events, and the interpersonal connections that are truly the joy of life.  We've had several significant media mentions and have been featured at major events and even on television.  We've increased our social media presence.  We now have an etsy store to compliment our events and retail partners by creating an online touchpoint for sales and connection.
Sales have progressed tremendously this year.  Because 100% of the proceeds go directly to the artisans, this infusion of revenue has helped create a reliable stream of income to add to the financial stability of the artisans and their families.
The Community Cloth is a program of Our Global Village, which became an independent nonprofit organization in late September.  We will spare you the self-congratulations on successfully navigating through the IRS labyrinth, but suffice to say that Our Global Village, and therefore The Community Cloth, is now fully independent and we can pursue our best and most successful future aspirations.  And you can join us by contributing your time, talent, or treasure – with the certainty that every minute and every cent contributed will come back to you tenfold.  In fact, we'd be happy to relieve you of the burden of some of that treasure right now – you can now donate online at our website: http://ogvillage.org/get-involved/donate.  With respect to the future, it would be trite to say the sky is the limit.  But it truly is.
The business progress is much less important than the tremendous progress the women of The Community Cloth have made this year, which we will touch on in future blog posts.  Globally, while the drum of progress may beat at a rhythm slower than we would choose, it is indeed unstoppable.  Our artisans are refugees, most from Burma or Bhutan, meaning they were sponsored by the State department to seek refuge in America from oppression in their country of origin.  As welcoming as Houston will always be to those who seek a better life, we look forward to a day where there will no longer be a need to seek refuge.
Secretary of State Hillary Clinton visited Burma in late November.  She is the first Secretary of State to do so in 50 years, spurred by the Burmese government releasing 200 political prisoners, including the Nobel laureate Aung San Suu Kyi, who is now running for parliament in the upcoming elections.  The U.S. has pledged $1.2 million in aid, but much more importantly is assessing Burma's readiness to promote freedom and democratic reform.  Burma has a long journey toward full openness and inclusion, but has taken a step – small, but significant.  The drum beats slowly, but it does beat.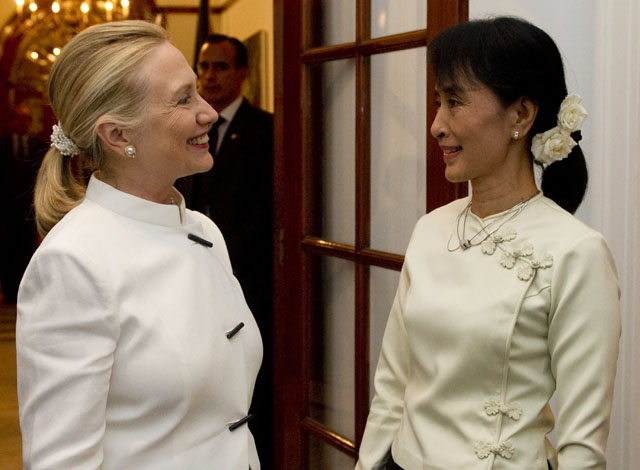 Progress is unstoppable.  One day, perhaps in our lifetime, the word "refugee" may seem like an anachronism or historical artifact.  Until that day, there is much work to be done, in Houston and around our entire global village.  So, during this season of blessings, we count ours and look forward to the future.